You heard about First Look from your friends, from your photographers, or read it online. For anyone who comes across this article and has no idea what First Look is, it is the time when the groom first sees the bride before the ceremony. How is it done? Usually, the groom waits somewhere and the bride approaches him from behind, taps on his shoulder (like the photo below), the groom turns back and sees the bride for the first time. We hope it makes sense to you.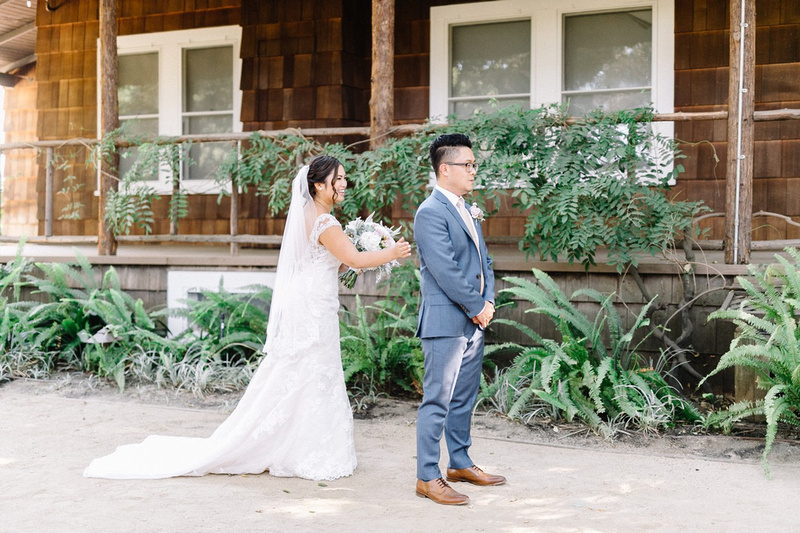 (The photo below is another form of First Look when they opened the door and saw each other)
Now, you are wondering whether or not you should do it. Instead of talking you into a particular direction, we want to give you an overall understanding of First Look, pros and cons. We will tell you our real experiences, as well as our advice so that you can make a good decision.
Pros:
You have a chance to do portraits before the ceremony. After ceremony, time might be tight and not enough for portraits, or it might get dark, or you prefer to spend time with your guests (they are there to celebrate with you, not with themselves).
It takes huge amount of pressure off when portraits are done early. The rest of the day is only for celebration, you will enjoy your wedding even more.
It is an intimate moment without anyone looking. Sometimes, too many people looking at you during ceremony affects how you express your emotion. This is why First Look lets you be yourselves for a moment, focus on your significant other and no one else.
Cons:
You might feel awkward when you know there are cameras pointing at you and First Look breaks that magical moment.
The groom might be under pressure when he thinks everyone expects him to be surprised, to be emotional, or to cry.
It breaks tradition. Some couples are really serious about tradition and consider seeing each other before ceremony is a bad luck.
Our experience:
There were times when the groom turned back and saw the bride, he didn't show much emotion. He simply said: "Oh, you are beautiful! I love you!" and that is it. Then, they both turned to us and asked what they should do next, in less than 30s.
There were times when the couples did the First Look and their reactions were so lovely. The feeling kept on till ceremony. We think that suddenly seeing the bride when the groom turns back is different than seeing her slowly walking down the aisle. They are two different moments and can lead to different emotions. Remember, it is not only about the groom, it is about the bride too. (Look at the photos below, do you see the bride with two different emotions)
Our advice:
First, look at your timeline to see if you have enough time for portraits after ceremony. If you have less than 30' for portraits (family, details, and candid shots are not included in this 30'), you might want to do First Look in order to get more time for portraits.
Take a moment to think about yourselves. Is either of you emotional? Is either of you afraid to express yourself in front of many people? If you say yes to either question, First Look seems to be a better choice.
Lastly, does tradition outweigh all the benefits of First Look? If it does not, break the rule and make our own path.