If you want a bright look, room with small windows will not cut it. If you want a soft look, room with yellow color will not get you there. The location choice is just as important as choosing photographers. We put up a guide which helps you pick the best place for getting ready. Then, it shows you how to prepare the place. By following this guide, you can be confident that your getting ready photos will look amazing. We also give advice on how to get a soft and at-home kind of look.
How to pick a place
Always go for a place with lots of natural light. No matter where it is, whether it is a hotel room, your living room, bed room, the more windows and the bigger they are the better. If your photographers want less light for dark and dramatic look, they can close the curtains. But it doesn't work the opposite way.
A place with sufficient space. A standard hotel room is too small to get ready. There will be you, your bridesmaids, makeup artist, hair stylist, photographers, videographers, and so on. You don't want to cram ten people into a room for two. Consider a suite as a starting point.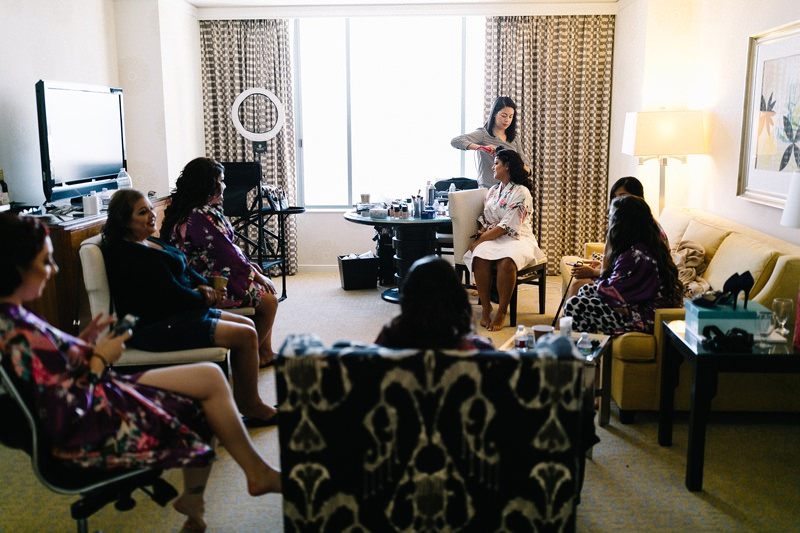 (imagine this room is cut in half, with a king bed, how much space will they have for getting ready?)
If the cost of getting a big hotel room doesn't fit in your budget, consider renting an entire house on Airbnb. You can book an entire house at the cost of two hotel rooms or even less. However, you need to carefully check to make sure there is at least one big room with lots of natural light (most likely to be living room) as we mentioned earlier. The downside is that there might be extra charge if you don't clean up after. Check with the home owner to make sure.
How to prepare the place
Put and hide things away. Your luggage, bags, t-shirts, towels don't need to be on the photos. Make sure to hide them (in the closet, under the bed, or anywhere out of sight) before the photographers arrive. Keep it neat just like how it is from the beginning.
Gather all details at one place prior to the photographers' arrival, ideally on the bed. They can be your wedding dress, shoes, veil, rings, bouquet, garter, gifts, etc., anything relates to wedding. Check with your photographers couple days in advance for a check list.
Ask the makeup artists to station you near a big window. Natural light is great for photos. Your photographers will want you to be near a big window anyway. It is really inconvenient to ask the makeup artists to move after they set everything up. So, ask them from the first place. In addition, sunlight is better than any other light to get an accurate makeup color.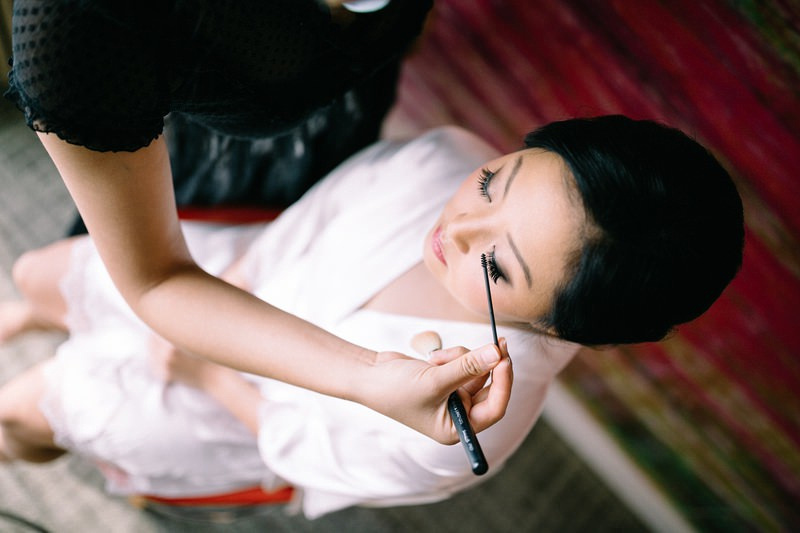 Turn on all light sources that you have besides opening all window curtains. Whatever can bring light to the room, do it. It is easier for your photographers to turn them off than to find and turn them on.
Our advice
To get a soft and airy look, pick a room with neutral (or cool) colors, such as white, grey, light blue, light purple. Avoid warm colors like orange, red, yellow or other colors with darker tone. Hyatt, Hilton would stay on top of our list.
When you book hotel rooms, make sure to have bride's and groom's rooms as close to each other as possible, ideally less than 20s of walking. This saves a lot of time for photographers and videographers.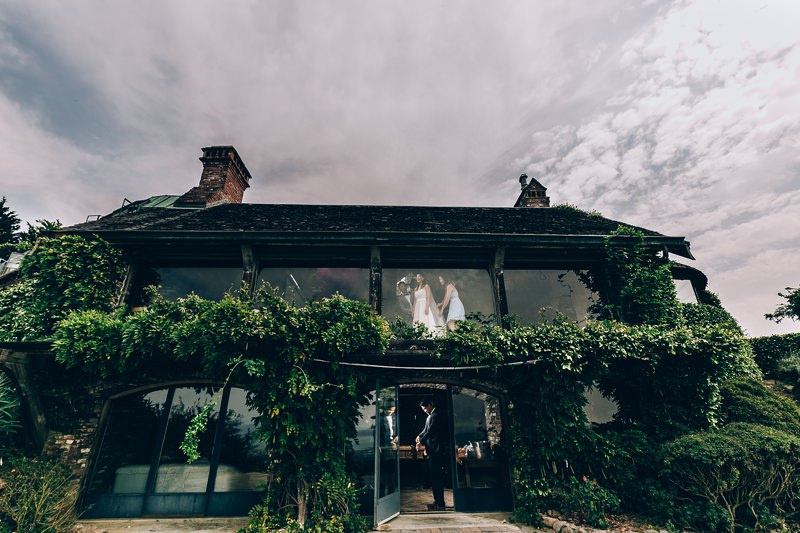 (sometime we get amazing photo opportunities with locations like this)
If you don't like the look of a regular hotel, and your home is not spacious or bright enough, Airbnb is a good alternative for style in addition to the cost. We booked some entire houses for our vacation with Airbnb and were impressed by the look. Some of them look unique and interesting. Give it a try.
(this is her house but which hotel can give this type of look: unique and personal?)